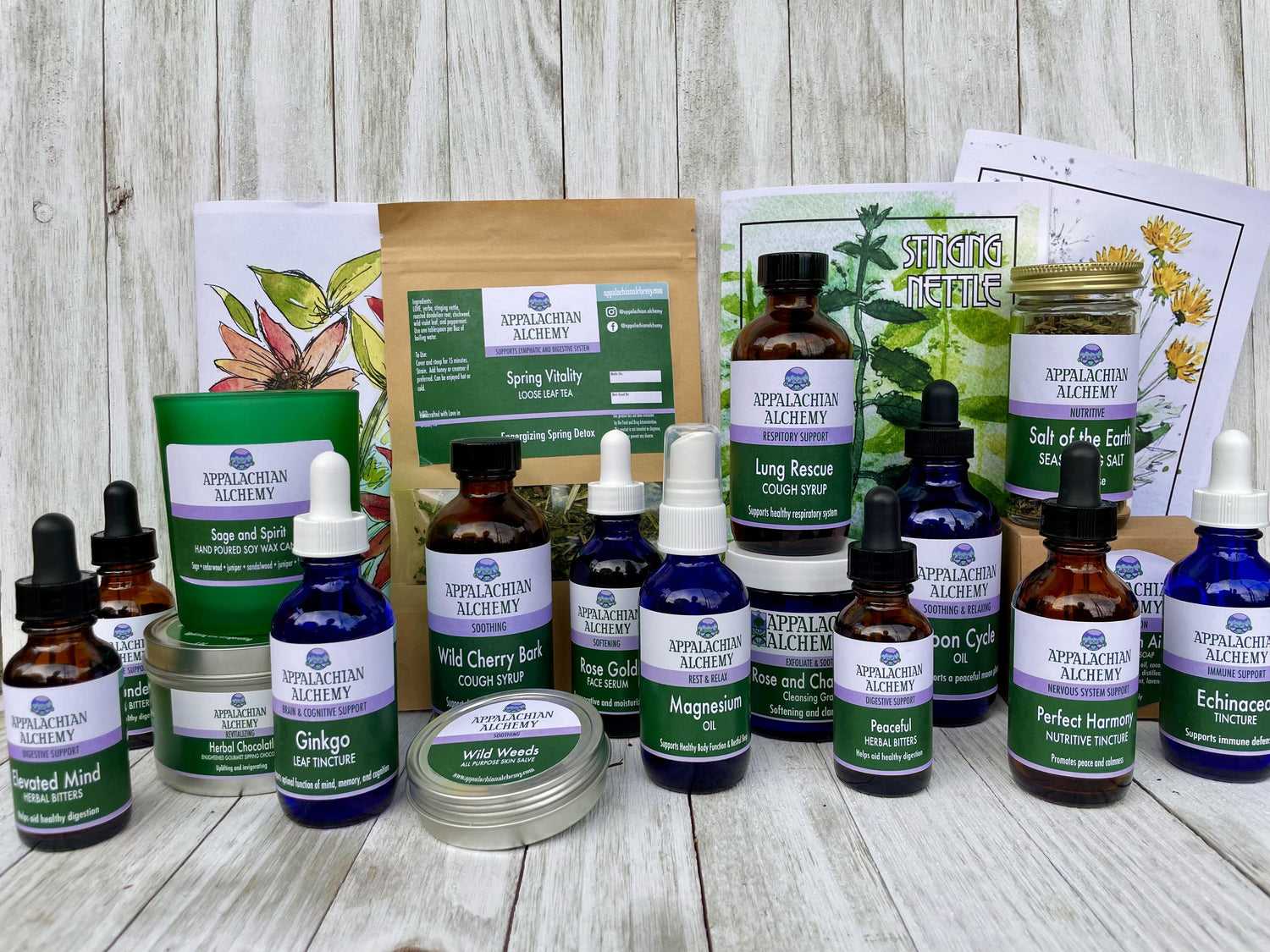 Collection:

Seasonal Wellness Kits
Experience curated holistic wellness paired with the energy of the seasons.
Each kit will contain at least 7 full-size herbal products, including items such as tinctures, salves, ciders, syrups, loose-leaf teas, cold-pressed soap, body oils, natural skin and hair care, lotions, sprays, and more.
A full-color booklet with original watercolor artwork, plant monographs, foraging tips, DIY recipes, rituals, and instructions on how to use your products will also accompany the small-batch herbal products. Consider this booklet an herbalist's guide to the season.  
Spring, Summer, Fall, and Winter kits will be filled with high-quality, small-batch herbal medicines delivered right to your door. This means simple organic products free from chemicals, preservatives, harsh fragrances, and artificial ingredients.
This offering is meant to empower you to study and work with medicinal herbs for your own health or that of your family. Each product has been intentionally added to best support your health throughout the season. 
Each Wellness Kit has a retail value of well over $200.
We are offering two discounted options for early subscribers.
Option 1
- Full Year Subscription (4 kits)
- Single up-front payment of $410
- Free Shipping Included ($60 Value)
-
(48% off individual items pricing)
Option 2
- Full Year 
S
ubscription (4 kits)
- Four Equal Payments of $135 (automatic billing)
- Discounted Shipping Included ($30 Value)
- (39% off individual items pricing)
 
Choose your Early Subscriber option below.
Further discounts are available for multiple subscriptions or adding "gift subscriptions". Contact us for more info on these opportunities.

We can't wait to partner with you on this year-long journey to boost your health and wellness!